Chew on This: How to Choose the Healthiest Snacks Blue Diamond Growers and Bonnie Taub-Dix,Registered Dietitian and author of Read It Before You Eat It–Taking You from Label to Table, conduct media tour discussing why not all snacks are created equal
News release by

YourUpdateTV
New York, NY | February 09, 2021 10:30 AM Eastern Standard Time


A video accompanying this announcement is available at: https://youtu.be/4u9Fhl4GE4w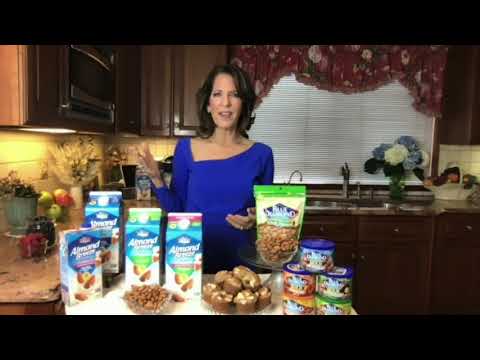 Blue Diamond Growers and Bonnie Taub-Dix, Registered Dietitian and author of Read It Before You Eat It–Taking You from Label to Table, conduct nationwide media tour discussing why not all snacks are created equal.




Stressful times call for comfort food and for many people that means turning to snacking.


Before the pandemic, consumers were snacking more than ever – with a focus on healthy products and ingredients. In 2020, there was a surge in packaged foods with consumers buying groceries online instead of going to the store. But snacking has gone beyond just the foods we eat – now snacking is bringing us together for comfort and connect and we're looking for snacks that are delicious and nutritious!


But not all snacks are created equal and research has indicated that consumers want their food to work for them. One in 4 consumers are looking for health benefits from food, and heart health ranks high among what they seek. The best snacks are multi taskers: They do a ton of things at once, providing a powerful combo of: protein, healthy fats & fiber – all are important to keep you feeling satisfied longer. And almonds provide all three components along with a variety of important nutrients.


Bonnie Taub-Dix – Blue Diamond partner, Registered Dietitian and author of Read It Before You Eat It – Taking You from Label to Table – conducted a nationwide media tour in conjunction with D S Simon Media and YourUpdate TV to discuss healthy snack options from Blue Diamond.


With Blue Diamond, consumers can always have nutritious items on hand. For example:


Almond Breeze Almondmilk is made with real California almonds, and is fortified with vitamins and minerals that are essential to a healthy diet.

Shelf Stable Almond Breeze Almondmilk lasts for a year unopened in the pantry.

Whole Natural Almonds – Just 28 almonds can help satisfy hunger including 6 grams of plant protein.

Crave Almond flavors: From Wasabi & Soy Sauce to Spicy Dill Pickle, Salt 'n Vinegar to Honey Roasted – these almonds will satisfy hunger and give you a nice kick of flavor.


Almond Breeze Almondmilk is an excellent source of calcium with 50% more calcium than dairy milk*. In fact, it's an excellent source of calcium and vitamins D and E as well as a good source of vitamin A. Almond Breeze is a great choice for people who prefer foods that are low in calories, sugar-free, lactose-free, gluten-free, or for those who follow a vegetarian or vegan lifestyle.


Almonds are incredibly nutritious. Just 28 Whole Natural almonds provide 6 grams of plant protein, 3 grams of fiber, healthy fats and they're an excellent source of biotin, vitamin E, a good source of magnesium and so much more.


With plant-based diets being so popular these days, almonds and Almond Breeze Almondmilk are so versatile they're perfect ingredients for meals and snacks anywhere from smoothies, to stews and baked goods to meet consumers wherever they are along their health journey.


For more information you can visit BlueDiamond.com


*Almond Breeze: 35% DV (450mg); Dairy milk: 25% DV (300mg) - 1 cup of dairy milk contains 300mg calcium vs. 1 cup of Almond Breeze contains 450mg calcium


About YourUpdateTV:
YourUpdateTV is a social media video portal for organizations to share their content. It includes separate channels for Health and Wellness, Lifestyle, Media and Entertainment, Money and Finance, Social Responsibility, Sports and Technology.