Cloud Conventions Prepares for Hybrid Tradeshows & Events to Flourish in 2021 Hybrid Options Combine Live Tradeshow & Conferences with Virtual Events
News release by

Convey Services
Atlanta, GA | August 12, 2020 08:00 AM Eastern Daylight Time
Cloud Conventions, a full featured virtual tradeshow, conference and event technology solution is now offering hybrid event capability to blend an enhanced virtual and digital experience with live events as they begin to return in 2021. Hybrid events expand the audience at tradeshows and conferences, extend the time attendees can engage with exhibitors and sponsors and provide a storehouse for content, session recordings and education on-demand. Cloud Conventions is upgrading its technology to offer integration with services like Experient and Cvent that manage both live and virtual attendee registration.


"Prior to COVID, the global marketplace for live expositions exceeded 33,000 events, producing $50 billion in revenue," said Carolyn Bradfield founder of Convey. "The pandemic forced the cancellation of tens of thousands of events in 2020, but as they return in 2021, the strategy to connect attendees to exhibitors, training and content will evolve with the addition of a virtual component. It will increase the options for audiences to participate and engage and support attendees who either don't want to travel or are concerned about risk."


Cloud Conventions automates every aspect of delivering a virtual tradeshow, conference or event from attendee onboarding to virtual exhibit booths. It creates a content-rich environment with enhanced views of marketing materials, educational classes, and product literature that live events can't deliver. The platform analyzes all attendee interactions and presents them in detailed reports for the event host and exhibitors. Cloud Conventions supports any brand of conferencing solution, including Zoom Video Webinar, PGi GlobalMeet, GoToWebinar, Vonage Meetings or Microsoft Teams to execute keynotes or educational sessions.


"The marketplace for live events will never be the same after COVID-19, but we think it's going to evolve, grow and become more versatile," added Bradfield. "Conferences and tradeshows are vital to the worldwide economy because they connect suppliers to buyers that keep their shelves, warehouses and online stores stocked with the latest merchandise. They offer professionals a forum for education, licensing renewal and connections. Hybrid events ensure that those activities will continue uninterrupted no matter what 2021 holds."


Hybrid events offer a coordinated way for attendees to register for both a live or virtual environment, as well as for exhibitors to have a physical and a virtual booth, and for content and education to be consumed in person or on-demand.


Cloud Conventions is a virtual event SaaS platform from Convey Services. For ideas on how the industry is using Cloud Conventions to make their virtual events informative and engaging, visit the Online Resource Center at www.CloudConventions.com.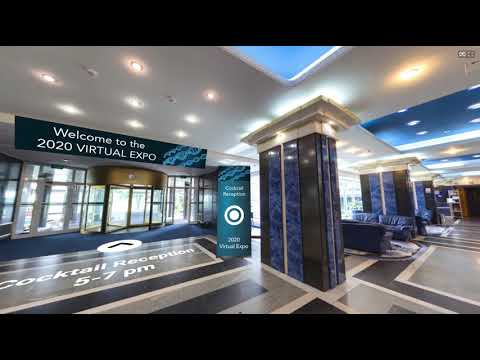 Cloud Conventions Prepares for Hybrid Tradeshows & Events to Flourish in 2021






About Cloud Conventions
Cloud Conventions is a Virtual Trade Show and Conference Platform from Convey Services that brings new capabilities to a marketplace looking for solutions to replace the thousands of live trade shows, annual conferences and association meetings cancelled in the wake of COVID-19. Originally launched as ConveyLive, Cloud Conventions automates exhibitors and virtual booths, attendee registration, speaker sessions and reminders, invitations and email communication, while at the same time producing detailed analytics on attendee, session and exhibitor activity.
Trade Associations and event managers can explore all of the Cloud Conventions solutions by visiting https://cloudconventions.com or contacting info@cloudconventions.com or call 888-975-1382.
Cloud Conventions™, Conduct™, One-Touch Email Share™, Hub & Spoke™, 360° Virtual Exhibit Hall & Lobby Experience™ and ListLock™ are trademarks of Convey Services LLC








bahern@conveyservices.com