Giving the Gift of Security This Holiday Season Technology and Lifestyle Expert, Stephanie Humphrey, Shares Her Top Tech Gift Ideas and How to Give the Gift of Security
News release by

YourUpdateTV
New York, NY | December 22, 2020 10:00 AM Eastern Standard Time
While everyone is busy getting ready for a holiday season during a global pandemic, scammers have been hard at work taking advantage of a year that has changed how people shop and spend time at home. Recently, Technology and Lifestyle Expert, Stephanie Humphrey, teamed with YourUpdateTV to share some ideas to help keep everyone safe and secure.


A video accompanying this announcement is available at: https://youtu.be/e5hj0wW0DyQ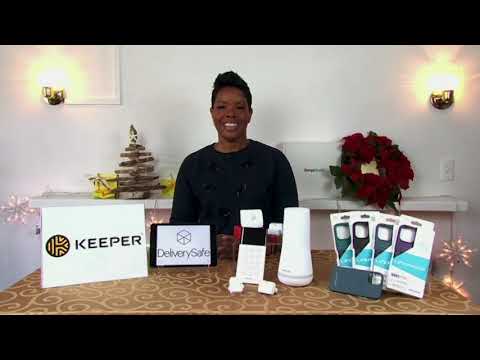 Giving the Gift of Security This Holiday Season




Protect Your Passwords
Scammers have really taken advantage of the shift in consumer habits this year as so much of our lives have gone on-line. More than half of Americans don't feel prepared should they be the victim of a cyberattack.


The most important thing consumers can do to protect themselves online is also the simplest and least expensive: Secure their passwords. Keeper uses the highest level of encryption available to protect passwords and personal information from being stolen by cybercriminals. Keeper eliminates the time and hassle that comes with forgetting, resetting and recovering passwords, providing users with one master password to remember. The service comes in monthly plans starting at $3 for unlimited password storage. Visit keepersecurity.com for more.


Protecting Your Packages
With the rise in online shopping, we've seen a rise in porch piracy, with 1.7 million packages stolen or lost each day in the United States. DeliverySafe is secure and simple to use and it solves a lot of problems and improves your life at home: it helps prevent porch piracy, it protects packages from rain, snow or heat, and it allows you to retrieve your grocery, package or subscription box deliveries at your convenience and around your schedule - not a delivery window.The insulated DeliverySafe sits on your porch or driveway and works with most major delivery companies. Simply provide them with a passcode that lets the driver store your package securely till you get home. Go to deliverysafe.com for more.


Whole-Home Protection
With everyone spending more time at home this year and holiday season, there's no better time to make it a place that's a safe haven. SimpliSafe provides whole-home protection against everything from intruders to fires, water damage and more. Give the gift of peace of mind with a SimpliSafe smart home security system, like The Essentials Kit, a six piece system that includes all of the basics to make life at home more comfortable and enjoyable. It's easy DIY install and no-long term commitments make it a great gift for homeowners and renters alike. For more information and to start the whole-home protection process, visit simplisafe.com/stephaniehumphrey.


Protect Your Tech (and the Environment)
Another way to feel more secure is to protect the tech you do have. While you're shopping for the latest tech for your loved ones, make sure they keep it protected as well and you can feel good about it. The new LifeProof WĀKE case is made with over 85% of ocean-based plastic, features a sleek wave design and comes in 4 different colors. But it doesn't just look good, it does good. With every purchase or a LifeProof case, you get to choose a non-profit partner to receive a donation. Visit lifeproof.com for more!


About Stephanie Humphrey:
Technology and Lifestyle Expert Stephanie Humphrey is a former engineer who merges her passion for lifestyle media with in-depth tech expertise to show everyday people how empowering, enriching and fun technology can be. Stephanie is driven by the sole purpose of connecting people, particularly those underrepresented in technology, with the tech know-how to transform their worlds. Stephanie is currently a technology contributor for ABC Newswhere she works as part of the nationally-syndicated Strahan Sara & Keke team.


About YourUpdateTV:
YourUpdateTV is a social media video portal for organizations to share their content. It includes separate channels for Health and Wellness, Lifestyle, Media and Entertainment, Money and Finance, Social Responsibility, Sports and Technology.