Kardex Remstar Launches the LR 35 Vertical Buffer Module New Multi-Channel Fulfillment Solution Helps Companies Improve Productivity and Reduce Labor Requirements
News release by

Kardex Remstar
Westbrook, Maine | October 20, 2020 08:34 AM Eastern Daylight Time
Kardex Remstar, a manufacturer of dynamic storage and retrieval systems, has launched the LR 35 Vertical Buffer Module. Featuring a cost-effective, tote-based handling system designed to support multi-channel fulfillment and reduce labor requirements, the LR 35 Vertical Buffer Module has entered the market at a time when retailers across the globe are facing increased demand due to rising numbers of online orders.


"From meeting social distancing guidelines due to the COVID-19 pandemic to helping companies cut down on labor costs, the LR 35 Vertical Buffer Module is the ideal solution for businesses struggling to fill a larger volume of orders than ever before," said Ronnie Weaver, area sales manager at Kardex Remstar.


For more information on the LR 35 Vertical Buffer Module, see the following resume and success story:
Looking to cut down on labor costs or fill job openings in your warehouse? The resume for Kardex Remstar's LR 35 Vertical Buffer Module explains how goods-to-person automation might be able to help companies expand their existing labor resources.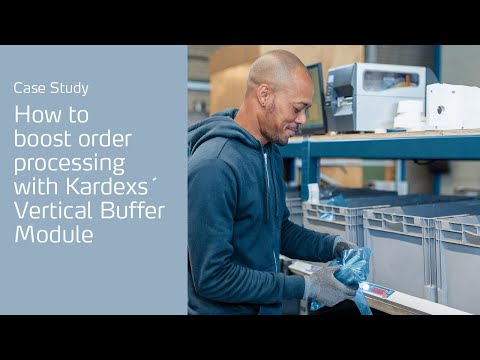 Success Story: Vihamij Boosts Order Processing with Kardex Remstar See how to manage increased order throughput in this success story from Vihamij, a wholesaler of building materials. Kardex Remstar's LR 35 Vertical Buffer Module improved order processing (300 order lines / h / person) and efficiency and reduced picking errors and travel time. Department labor requirements were reduced from six people to two people (one picker and one person preparing orders).




About Kardex
Kardex is a global industry partner for intralogistic solutions and a leading supplier of automated storage solutions and material handling systems. The Group consists of two entrepreneurially managed divisions, Kardex Remstar and Kardex Mlog. Kardex Remstar develops, produces and maintains dynamic storage and retrieval systems and Kardex Mlog offers integrated materials handling systems and automated high-bay warehouses. The two divisions are partners for their customers over the entire lifecycle of a product or solution. This begins with an assessment of customer requirements and continues via the planning, realization and implementation of customer-specific systems through to ensuring a high level of availability and low lifecycle costs by means of customer-oriented lifecycle management. Over 1 900 employees in over 30 countries work for Kardex.


Disclaimer
This communication contains statements that constitute "forward-looking statements". In this communication, such forward-looking statements include, without limitation, statements relating to our financial condition, results of operations and business and certain of our strategic plans and objectives. Because these forward-looking statements are subject to risks and uncertainties, actual future results may differ materially from those expressed in or implied by the statements. Many of these risks and uncertainties relate to factors which are beyond Kardex' ability to control or estimate precisely, such as future market conditions, currency fluctuations, the behavior of other market participants, the actions of governmental regulators and other risk factors detailed in Kardex' past and future filings and reports and in past and future filings, press releases, reports and other information posted on Kardex companies' websites. Readers are cautioned not to put undue reliance on forward-looking statements, which speak only of the date of this communication. Kardex disclaims any intention or obligation to update and revise any forward-looking statements, whether as a result of new information, future events or otherwise.