Nintendo Holiday Gift Guide 2020:Gifts the Whole Family Can Share & Enjoy This holiday season, families can use the Nintendo Switch family of systems and fun games to create lasting memories.
News release by

D S Simon Media
New York, NY | December 01, 2020 06:11 AM Eastern Standard Time


The holidays will look different for many families this year, but whether people are celebrating in-person or virtually, Nintendo has options for every gamer in the family. Recently, David Young, Nintendo spokesperson teamed with YourUpdateTV on a nationwide satellite media tour to discuss the hottest new Nintendo products and some great options for the holiday season.


A video accompanying this announcement is available at: https://youtu.be/e9kyI6m_Q0s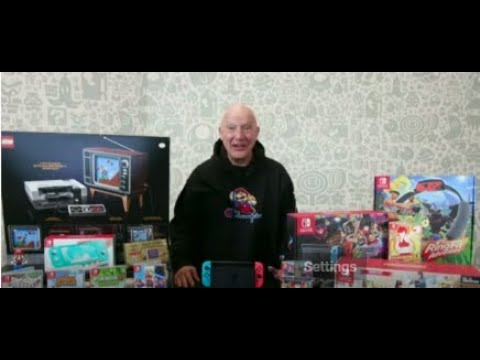 Nintendo Holiday Gift Guide 2020:Gifts the Whole Family Can Share & Enjoy


With the Nintendo Switch family of systems, families have the choice of a system that best fits their needs and personal play styles, with a broad range of games you can play together. Nintendo Switch can be played at home or on the go, while Nintendo Switch Lite is a handheld system perfect for players who love playing in handheld mode.


Nintendo is also offering a special Black Friday deal with the Nintendo Switch system, Mario Kart 8 Deluxe game and a three-month individual membership* to Nintendo Switch Online all in one package at a great value price of only $299.99 – that's like getting the game and membership for no extra cost!


Here are some of the hottest Nintendo games this holiday season.




For more information, visit https://www.nintendo.com/holiday/.


* Included Nintendo Switch Online membership will auto-renew after three months. Terms apply. nintendo.com/switch-online




About: David Young:
Assistant Manager, PR at Nintendo
A Nintendo veteran of more than 30 years, David Young is Assistant Manager of Public Relations working with media, celebrates and influencers. Young began his Nintendo career as a consumer service representative and game counselor and helped Nintendo launch every game system beginning with the Super Nintendo Entertainment System to the current Nintendo Switch system.


About Nintendo:
The worldwide pioneer in the creation of interactive entertainment, Nintendo Co., Ltd., of Kyoto, Japan, manufactures and markets hardware and software for its Nintendo Switch™ system and the Nintendo 3DS™ family of portable systems. Since 1983, when it launched the Nintendo Entertainment System™, Nintendo has sold more than 5 billion video games and more than 779 million hardware units globally, including Nintendo Switch and the Nintendo 3DS family of systems, as well as the Game Boy™, Game Boy Advance, Nintendo DS™ family of systems, Super NES™, Nintendo 64™, Nintendo GameCube™, Wii™ and Wii U™ systems. It has also created industry icons that have become well-known, household names, such as Mario, Donkey Kong, Metroid, Zelda and Pokémon. A wholly owned subsidiary, Nintendo of America Inc., based in Redmond, Wash., serves as headquarters for Nintendo's operations in the Americas. For more information about Nintendo, please visit the company's website at https://www.nintendo.com/.