Open Enrollment: A Money Saving Approach to Insurance from Sidecar Health With healthcare top of mind for Americans as the pandemic worsens, Sidecar Health aims to disrupt the flawed industry with "cash price" model which may save members up to 40%
News release by

YourUpdateTV
New York, NY | December 09, 2020 10:20 AM Eastern Standard Time
Even before the pandemic hit, millions of Americans lacked critically needed health insurance. Now, with businesses struggling to stay afloat, millions more are at risk of losing employer-sponsored insurance, leaving them to navigate the marketplace on their own.


A video accompanying this announcement is available at: https://youtu.be/SniHnV2TpPo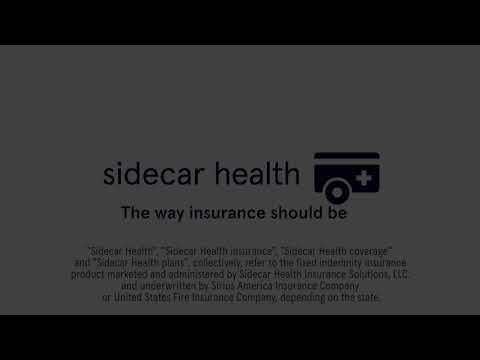 Open Enrollment: A Money Saving Approach to Insurance from Sidecar Health




However, there is a simple, affordable, and personalized alternative that turns patients into purchasers, giving them the ability to shop around for care as they would with any other commercial product. Enter Sidecar Health.


Sidecar Health, which operates on the principle of cash payments, is turning the industry on its head. While traditional insurance acts as a middleman between patients and doctors, leading to increased costs and surprise bills, Sidecar Health members get substantial discounts (and no surprise bills) from providers by paying cash directly at the point of service. They also enjoy the freedom to see any medical service provider they need, without network restraints, and the ability to personalize a plan to fit their individual healthcare needs.


Patrick Quigley, Chief Executive Officer and Co-Founder of Sidecar Health, conducted a nationwide media tour to discuss new money-saving healthcare options such as Sidecar Health that disrupt the flawed industry.


Topics that Quigley discussed included:
How the cash-price model differs from existing insurance options

How "cash-price" insurance saves money by getting rid of the inflated commercial prices negotiated by traditional insurance

How COVID-19 has impacted health insurance and healthcare in the U.S.

How those who have lost employer-sponsored coverage can access high-quality coverage on their own terms

How an unexpected medical procedure led Patrick to his a-ha! moment and the creation of Sidecar Health


For more information visit: sidecarhealth.com


About Patrick Quigley, Chief Executive Officer and Co-Founder, Sidecar Health:
Patrick Quigley founded Sidecar Health in 2018 as a new approach to insurance. The company now operates in 14 states using a disruptive cash-price model to save members 40% or more on health care costs. With a storied career spanning 15 years in health insurance, Patrick has led companies dedicated to various aspects of the industry. He spearheaded the growth of Healthplans.com, a leading website that connected 35 million people with carriers and brokers to find plans for their families. Patrick also served as CEO of Katch, which helped carriers enroll new members in individual health plans producing over $3B in annual premiums.


About YourUpdateTV:
YourUpdateTV is a social media video portal for organizations to share their content. It includes separate channels for Health and Wellness, Lifestyle, Media and Entertainment, Money and Finance, Social Responsibility, Sports and Technology.