WEED AND WHISKEY NEWS BEGINS SEARCH FOR SHOW HOST, LAUNCHES AUDITION CONTEST. Weed And Whiskey News is searching for their new host through on-line auditions and world-wide voting.
News release by

W And W Digital, LLC
Dallas, Texas | October 21, 2020 06:45 AM Central Daylight Time


Jerry Joyner, executive producer at W And W Digital, LLC, discussed the announcement during a live broadcast from Dallas, Texas, on Friday, October 16th, 4:20pm 2020.


Do you want to get paid to talk about weed and whiskey? Well this might just be your dream job. Weed And Whiskey News has opened on-line auditions to find their show host.


Joyner explained, "Rather than go thru a traditional Hollywood casting, we are launching a star search contest to find a super unique host. Once the individual submits their application and post their submission video, we will see what the world thinks and allow them to vote for their top three favorites. Next, we will narrow down the picks to the top six contestants, followed by a vote by celebrity judges. The final decision will be announced on weedandwhiskeynews.com. We want this process to move quickly, so there will only be a few weeks before we announce our new host(s). The complete audition process and qualifications can be found at weedandwhiskeynews.com/pickme."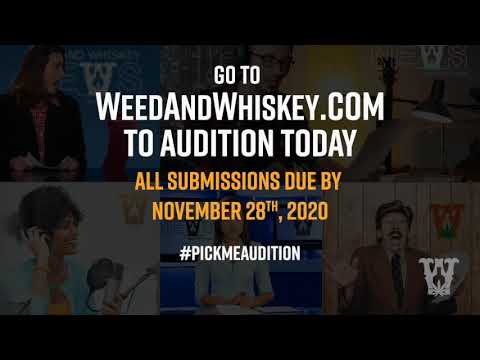 Weed and Whiskey News: Will you be the chosen one?


"Perhaps the news will be delivered by a duo. If the chemistry and comedy works, we could be looking at a father and son combo or as non-traditional as a non-binary and a sock puppet! Anything is fair game for the audition."


You can find out more and submit your audition at weedandwhiskeynews.com.


Auditions open October 20th for the host of Weed And Whiskey News.


"Weed And Whiskey News®" will cover topics including: medical benefits, growing, products, cannabis strains, whiskey recommendations, infusion innovations, marijuana stocks, alcohol trends, the latest legalization legislation, comedy, special guests, music, celebrity cameos and believe me, there will always be a "twist" in our reporting.


The weekly broadcast is free and will sustain the content thru a non-traditional advertising or product placement model. "When the first TV shows came out, each show had a single sponsor and we plan to partner with brands in the alcohol space like Alcanna, Constellation Brands, Great Northern Distributors, Heineken Molson Coors Brewing and marijuana brands like. Apothecanna, Caviar Gold, Marley Natural and Willie's Reserve. These brands are congruent with the lifestyle of our audience", shared Joyner.


###END###




Weed And Whiskey News is a short format, fact based news show that engages audiences with smart comedy. The show includes a digital "watch party" to draw viewers and a 4:20 "countdown clock" to deliver bite sized news covering cannabis and spirit education, developing brands and strains, the latest tech, medical advancements and legislation. Weed And Whiskey News delivers content via streaming on the Weed And Whiskey News website along with Roku, Twitch, Weed And Whiskey TV & YouTube.


Weed And Whiskey TV is an On-Demand TV Network, featuring original, highly-entertaining cannabis and spirit friendly programming. The vast majority of their original programming is only four minutes and 20 seconds in length and can be viewed on virtually any mobile device. Weed and Whiskey TV also streams curated music concerts, feature films, shows, and holiday specials. Twist one up, pour a whiskey...sit back, relax, and enjoy Weed And Whiskey TV. It's TV with a Twist!


W And W Digital, LLC is an entertainment and media holding concern headquartered in Dallas, Texas. W And W Digital owns and operates the streaming TV Network, Weed And Whiskey TV. In addition to licensed feature films and episodic series, W And W Digital created and produces the following episodic series. "DI High", "Higher Than Space", "History Written in Stoned", "In Luck" (filmed at Willie Nelson's Luck Reunion that coincides with SXSW), "Paper Bartender", "Trailer Talks", "Tequila Shots" and the soon to stream weekly news show "W And W News".




For More Information on W And W Digital, LLC contact: